The importance of eating mindfully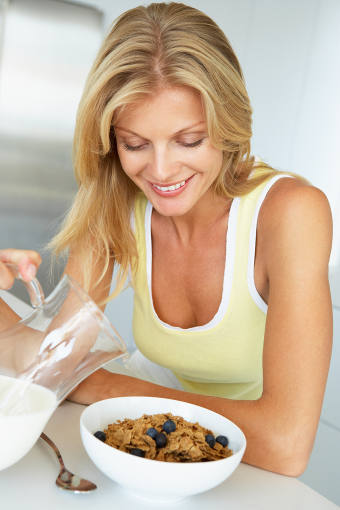 You've heard of mindfulness at work, but what about mindful eating? While our relationship with food is not always straightforward, it's good to see that people are generally becoming more conscious about the food they eat.
Whether this translates into trying to lose weight or choosing organic produce, cooking from scratch or cutting down on processed ingredients, it's an active engagement with what we put into our bodies – and that must surely be a good thing. However, when we put this much care into choosing what we eat, it makes sense to put the same amount of love into the actual eating of it.
Do you often hurry or even skip your meals? Stress, for example, can be a powerful appetite suppressant that isn't healthy at all. Do you multitask while eating? Do you make family mealtimes a priority? By respecting mealtimes and paying attention to the ritual of eating food, we prepare our bodies to receive the full benefit of the food. And eating mindfully not only helps your digestion (that's a scientific fact) and therefore your physical health, it has mental health benefits too. Mindful eating helps you to feel calmer, happier and more satisfied.
Here are 7 tips to help you to eat more mindfully:
1 – Eat proper meals every day
If you've got into the habit of snacking all day, skipping breakfast or eating at irregular hours, try switching back to 3 regular meals per day. Eating balanced meals at regular intervals helps maintain steady blood sugar levels, keeping energy slumps at bay. What's more, it takes our bodies around 3 hours to process meals after which it needs to rest. If you 'graze' throughout the day, you put more strain on the digestive system, making it sluggish and less efficient.
2 – Take your time over meals
In addition to taking regular mealtimes, it's important not to rush our food. We spend such a small proportion of our day actually eating, and yet it's an important time and process to nourish our bodies. Surely, even with stressful jobs and hectic lifestyles, everyone should be able to spare half an hour to sit down and eat properly?! Not only does eating more slowly, calmly and relaxed help us digest our food better, it's an opportunity to really savour and relish each mouthful and enjoy the sensory pleasure of eating delicious food.
3 – Sit down while you eat
Grabbing a sandwich on the go or having a quick bite while you're waiting for the train is a bad habit to get into. When we sit down, our bodies are at rest, meaning our energy can move inwards to the stomach and digestive system. Ever heard of 'rest and digest'? That's the state our nervous system should be in at mealtimes. Conversely, when we are standing up or moving around, the circulation is actively bringing blood to our arms and legs, while action hormones such as adrenaline are being released that are not helpful to the digestive process.
4 – Chew your food well
Digestion starts in the mouth – with chewing. If you rush your food and wolf down large mouthfuls, you are not getting the most from your meals. Good chewing allows you to assimilate the nutrients well – your teeth break down fibre and the saliva mixes with the food allowing the enzymes to break down the carbohydrates. Carb rich foods such as grains, beans and vegetables benefit particularly well from thorough chewing – and you will feel fuller more quickly. Try putting your cutlery down and chew each mouthful at least ten times.
5 – Make your meals screen free
Mindful eating means focusing on the process of nourishing your body. You can't do that while you're multitasking. However tempting it may be to eat in front of the TV, check your emails while having lunch or keep your phone next to you on the table just in case a message comes in, break the habit! Let mealtimes be just for eating and you'll soon find that these times become small islands of rest and relaxation during a busy day.
6 – Make it look beautiful
Don't underestimate the importance of the visual appeal of your dining area and the food itself. Wouldn't you rather have your meals in attractive surroundings? And wouldn't you prefer food that looked truly appetising to eat? Make the food look good with colour and garnish, served in pretty bowls and in an uplifting space, and feel the energy nourish you inside you as you're having your mealtime break. Best of all, share the experience with family and friends and nourish your spirit too!
7 – Appreciate your meals
Rather than taking your meals for granted and viewing food as nothing more than fuel to get the body through the day, take a few moments to really think about where it has come from. It's a humbling experience to truly appreciate the abundance of nature that makes it possible for all of us to be alive, part of the natural world that we live in. You don't need to be especially spiritual to feel the interconnection between yourself and all other living things.