What to do when you're being bullied at work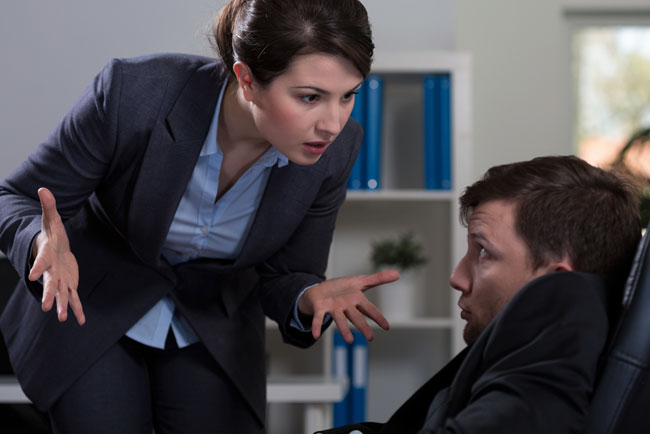 It is a sad fact that bullying in the workplace is all too common. This very real and serious problem will affect one in two adults at some point during their careers.
What is bullying?
Bullying can take many forms, but essentially it is an attempt to undermine, upset or control another person. Rather than an isolated incident, it is the repeated and sustained negative behaviour that can cause so much damage to your self-confidence and self-worth
Examples of bullying include:
Being ridiculed and made fun of
Unfair criticism and putdowns
Not acknowledging your contribution or valuing your work
Being excluded from social situations
Verbal and physical abuse
What are the effects of bullying?
Sustained bullying leads to stress and ill-health and can manifest as a wide range of symptoms including:
Anxiety and depression
Low self-esteem and suicidal tendencies
Sleeplessness and tearfulness
Headaches and nausea
Skin rashes and ulcers
High blood pressure, Irritable Bowel Syndrome (IBS) and much more
How to deal with bullying at work
If you are suffering as a result of bullying in your place of work, don't make the mistake of thinking that it will all go away if you ignore it. You need to address the problem head-on, and for that you need strategies to strengthen yourself on the inside, as well as tips to tackle the situation on the outside.
5 steps to stop the bully
Bullying in the workplace is not only unacceptable, it may also be illegal. Check with your employer to see if there is an official policy to deal with bullying at work.
One of the first things you should do is tell someone about the bullying behaviour, perhaps your line manager or a colleague. Not only will you have someone there to support you, but they can act as a witness if necessary.
Keep a record of every incident and note down everything that happened in detail, in case you need to take it further.
Speak to the bully direct, informing him or her calmly and politely that you find the behaviour unacceptable.
If this doesn't improve the situation, seek advice and assistance from your line manager, then the HR department to resolve the situation.
If you're not getting the support you need from your employer, and it is clear that the bully is contravening employment law or breaking a code of conduct, you can take legal action.
Counselling to develop your inner confidence
Here at KlearMinds, we offer CBT bullying counselling which can be extremely useful in helping you to:
Understand bullies and what motivates their behaviour, by discovering how to identify the signs and types of bullying and how they affect you
Develop proven, effective strategies to deal with bullies at work, by learning how to replace fear, anger and anxiety with confidence and determination
Find the inner confidence to put a stop to being bullied, by building a set of tools that you can use to manage future situation.
For a confidential chat about bullying at work or any other issue, please feel free to call us on 0333 772 0256 or book an appointment here.