Why and how to stay mindful at work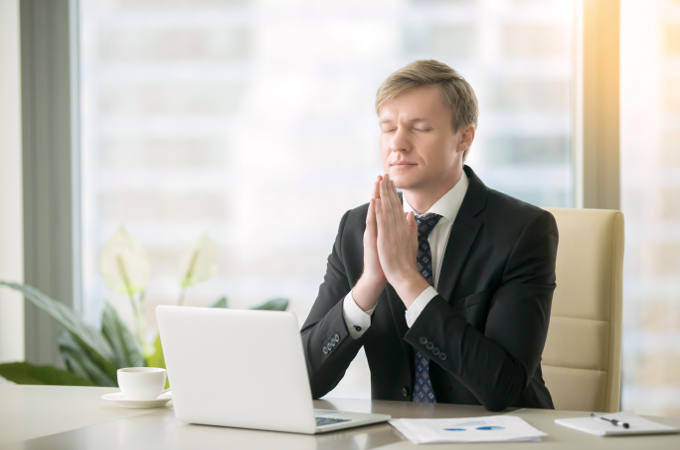 The benefits of mindfulness have been receiving much attention over recent years, with many companies introducing 'mindfulness at work' initiatives to benefit their staff, including giant corporations such as Google, Nike and Procter & Gamble. But how can this practice make any difference?
The concept of mindfulness is defined as the process of bringing one's attention to what is occurring in the present moment, and without judgement. The aim is to be fully aware of your thoughts, feelings and actions but without getting caught up in them.
Rooted in Eastern philosophies, the practice is based on meditation and has the following benefits for the regular mindfulness student:
Reduces stress and mental health issues
Scientific studies have shown that mindfulness has the power to change the structure of our brains to allow us to respond to stress in a healthier way. It does this by lowering the production of cortisol (the 'stress hormone'). Mindfulness can be particularly effective in lowering the negative effect of mental health issues such as anxiety and depression, when used together with Cognitive Behavioural Therapy (CBT) and medication.
Improves focus and concentration
With regular practice, mindfulness can train your brain to stay fully focused on the present, meaning you are able to devote your full attention to what you are doing now, while minimising the impact of any distractions. Your mind will retain the information for longer, and the ability to approach each task calmly is likely to boost both your self-confidence and performance at work.
Teaches greater resilience
A mindful approach to the present can help us learn to appreciate the purely 'experiential self' rather than the learned narrative that we tell ourselves about who we think we are/should be. This can be helpful in the face of change and/or adversity brought about by, say, an unexpected life event, sudden job loss or major career change.
Helps to develop better relationships
Strong self-awareness, the ability to empathise and desire to behave with altruistic intent are important cornerstones for developing meaningful relationships. Mindfulness helps us to respond more authentically to people, which in turn builds trust and understanding – key ingredients for resilient workplace connections and collaborations.
Encourages creative thinking
Practising mindfulness on a regular basis stimulates divergent thinking, which can be hugely beneficial for creative brainstorming and ideation sessions, helping to produce innovative ideas and solutions for all kinds of business problems.
---
How to get started in your mindfulness practice
In order to gain the most benefit from mindfulness, regular practice is essential. Rome wasn't built in a day, and neither should you underestimate the time it takes to 'learn' to become mindful. Here are 5 steps you can take to practise being in the here and now.
1 – Meditate daily
Find somewhere quiet and comfortable where you can sit in an upright but relaxed position. Pay attention to your breathing and listen to the sound of your breath as you feel your chest rise and fall. Do this for at least 1 minute and don't worry if you get distracted – you will learn to notice your thoughts and let them pass, like clouds in the sky, bringing your attention back to your breath. If you feel that you need guidance, there are plenty of meditation apps and guided meditations you could try.
2 – Observe the world around you
With digital technology and the demands of a hectic 24/7 world all around us, it can be hard to get off the treadmill and just be. Mindfulness teaches us to focus on the here and now, on what is right in front of you right now, cutting through the din. Can you hear birdsong outside? Feel the sunshine on your skin? See children playing in the street? Smell the rain? Make a point of paying attention to the world in 3D. Whether on the daily commute, at the office or at home, really observe and sense the environment that is all around.
3 – Make it a habit to slow down
Rather than rushing through the day to try and get as much done as possible, slow down! Concentrate on completing one task at a time calmly and to the best of your abilities. Multitasking can be overrated – sometimes the pace and sheer volume of demands on our time can mean that quality of our work suffers. Instead of feeling overwhelmed and overhurried, refocus and gently direct your attention to the task at hand until it's done to your satisfaction.
4 – Appreciate routine tasks
Rather than treating routine tasks as pesky chores that get in the way of 'real work', reframe the way you think about these jobs. Whether it's filling in your timesheet, filing paperwork or restocking the drinks machine, release your inner resistance to the task and simply pay attention to the detail of the activity in front of you. Feel the warm water on your hands, or the paper between your fingers while you carry out this routine task without judgement, worry or undue pressure.
5 – Accept your feelings
An important part of being mindful is to not judge your thoughts and feelings as being either right or wrong – whatever it is, they're just thoughts or feelings that will pass. On their own, the don't define you, and they only have the power over you that you give them. Rather than letting a particular thought or feeling negatively affect your self-esteem, you can choose to let it pass.