Amanda Reynolds
Psychotherapist & Counsellor
Adv Dip CBT, Dip Counselling, BSc Psychology, Cert Counselling, BACP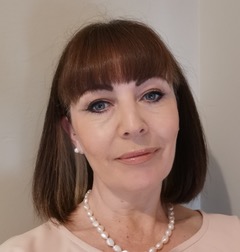 Amanda is a highly experienced Advanced CBT and Integrative therapist with more than 8 years experience. She draws upon a wide range of therapies and works proactively to help clients understand, process and resolve their concerns and conflicts.
Amanda can assist you to quickly identify problematic thoughts and behaviours which negatively impact your personal and professional well-being. She can help you develop skills and strategies which you can utlize to turn around difficult or painful experiences.
Amanda is skilled in helping people improve and develop confidence, personal success and satisfaction in both career, home life and relationships. Amanda can also equip you with the ability to manage future, unforeseen challenges with more ease and confidence.

CLIENT REVIEWS
"Amanda was able to help me think through a lot of thoughts that made me feel extremely stuck and hopeless at the time. It's not a quick fix but with the will to put in mechanisms that Amanda gave me and realisations that I was able to have through therapy, I am doing much better and am able to cope with my anxiety and OCD a lot better. I believe the whole experience was a process but one that I will continue with confidence. Amanda was extremely understanding throughout and approached my issues in a way that made me feel heard as she understood the mechanics of my thought process. I will definitely contact klearMinds again in the future if I feel I need to reach out again"
Amanda can help you address a wide range of issues including:
Anxiety, trauma and PTSD, depression, stress management, identity and self-esteem, inner conflict and self harming behaviours, personal and professional development, sexual violence, abuse, career issues, loss and grief, childhood issues, attachment issues, improving self-belief and confidence, assertiveness, relationship issues, stress management, sleep disturbance, phobias, OCD, general health issues, chronic fatigue/ME, ADD/ADHD.
Clinical Experience
Amanda has gained many years of clinical experience across a range of settings and has held senior posts in varied counselling services including; London School of Economics (LSE), higher education, a large medical setting, palliative care, crisis care, and sexual violence service.
She has considerable experience in delivering workshops on Trauma, Anxiety, Managing Sleep Disturbance, managing mental health and managing menopause.
Qualifications and Training
BSc Psychology, Advanced Diploma in CBT, Diploma in Therapeutic Counselling, Certificate in Counselling Skills. Amanda has additional training in trauma, loss and grief, sexual violence, harming behaviours.
Amanda holds professional recognition and accreditation with the BACP.
Fees
£130 per session
Private Health Care Insurance Psychotherapist and Counsellor
Amanda is a registered provider of psychotherapy for Healthcare Insurance companies including Cigna, Aviva, WPA, Allianz and Healix.
Save
Save
Save