Central London Counselling & Psychotherapy
If you need to find a psychotherapist, life coach or counsellor in Central London our centre close to Harley Street can help. Our highly experienced psychotherapists provide counselling, life coaching and psychotherapy in this location. We are located in Central London, within easy reach of Harley Street, Oxford Street tube and Soho. We also provide cognitive behavioural therapy (CBT Therapy) in our central London psychotherapy Centre.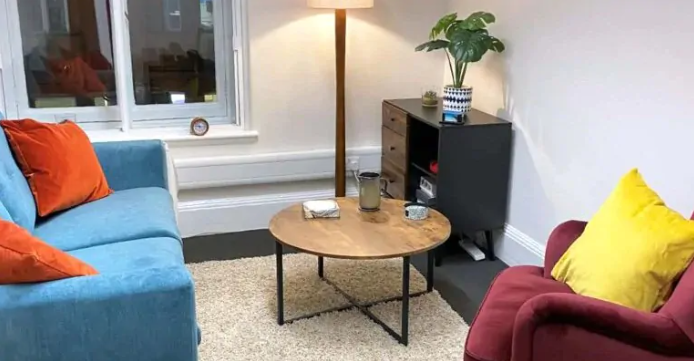 Our Counselling Practice in Central London, West End Location – near Harley Street
Address: 14 Hanover Square, London, W1S 1HN
Our Central London Psychotherapy and Counselling service is located just 1 minute walk from Oxford Circus tube station and 5 minutes' walk from Bond Street and Tottenham Court Road tube stations.  We are within easy reach of  Harley Street, Mayfair, Soho.
Call us on 0333 772 0256 to book an appointment or contact us online.
Meet Our Experienced Therapists
Hundreds of clients have trusted KlearMinds to help them find a therapist. Our Clinical Directors review every enquiry to match you with an expert therapist who can help you resolve your concerns and achieve your goals. Simply complete our enquiry form or request a telephone call to find a therapist who is the best match.
Issues our Central London Therapists Can Help With
If you are looking for psychotherapy in central London we can help with a range of issues including anxiety, depression, self-confidence, relationships, career and work issues, addiction and trauma.
Anxiety
Working with a KlearMinds therapist you can learn what causes anxiety or panic and how to regain control. Discover how to identify anxiety or panic attack triggers and minimise their effects. Develop a tool kit you can use for the future to help you manage the natural anxiety of life which occurs when we need to face challenges and the ability to prevent anxiety becoming overwhelming in the future. Learn more about how we work with anxiety here: anxiety therapy
Depression
Whatever is triggering your depression, our award winning therapy can show you step by step, effective strategies for successfully beating depression. Click here to learn more about how we can help you with: depression counselling
Stress
Our stress counsellors use a powerful combination of CBT and counselling techniques to help you understand the really important factors that cause your stress.
How Much Does a CBT Therapist Cost at Klearminds?
Individual: £120 - £160; Couples: £130 - £180;
Company: £120 - £160 + VAT
Fees are charged on a per session basis.
A standard session lasts 50 minutes.
Not Sure Which Therapist or Type of Therapy You Need?
Get in touch with Maggie Morrow, Award Winning Therapist & KlearMinds Director. Maggie can help match you with the right therapist based on your needs.
Private Therapy Rooms in London Online Counselling Available
Quality Standards
Our hand-selected therapists have trained in the UK's most respected counselling institutions. They hold a minimum of 8 and up to 30 years clinical experience within the NHS, private and/or charitable sectors in and around London. They are registered with: