Kensington Counselling & Psychotherapy
If you need to find a counsellor, life coach or psychotherapist in West London our Kensington centre can help. Our award-winning psychotherapist Maggie Morrow provides counselling, life coaching and psychotherapy in this location. We are located in the London Borough of Kensington and Chelsea, within easy reach of Notting Hill, Bayswater, Holland Park, or Knightsbridge. We also provide cognitive behavioural therapy (CBT) in High Street Kensington.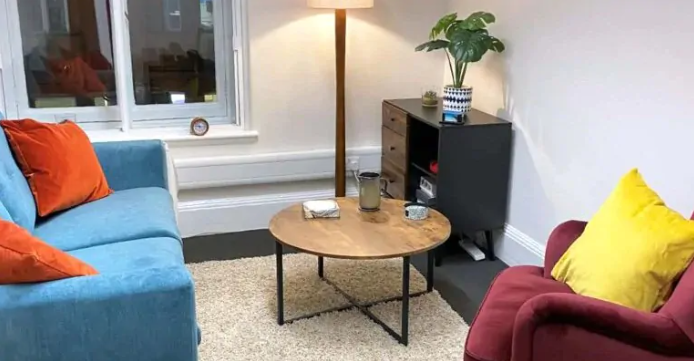 Our Counselling Practice in West London, High Street Kensington
Address: 1 Adam & Eve Mews, Kensington, London, W8 6UG
Our West London Counselling service located in a quiet mews approximately 150 meters distance from High Street Kensington tube station. We are located 15 minutes walking distance from Notting Hill tube or Holland Park station and approximately 20 minutes walk from Knightsbridge tube station.
Call us on 0333 772 0256 to book an appointment or contact us online.
Meet Our Experienced Therapists
Hundreds of clients have trusted KlearMinds to help them find a therapist. Our Clinical Directors review every enquiry to match you with an expert therapist who can help you resolve your concerns and achieve your goals. Simply complete our enquiry form or request a telephone call to find a therapist who is the best match.
Issues our West London Therapists Can Help With
If you are looking for psychotherapy in Kensington & Chelsea we can help with a range of issues including anxiety, depression, self-confidence, relationships, career and work issues, infertility and trauma.
Relationship Counselling Maybe your relationship is suffering and you want to make it better, perhaps you are unsure whether to stay in a relationship or you just want to find a relationship? Our expert relationship counsellors can help you understand the blocks to your success in a relationship and how to move forward, developing and creating the relationships you want in your life. Learn more here: relationship counselling and couples counselling
Couples Our couples therapy can help you to prevent breakdowns in communication and issues in your relationship from worsening and will show you essential strategies to resolve problems effectively to enable you to build love, fun and deeper trust in your relationship.
Career Our counsellors provide powerful steps you can take to successfully develop your career, reduce work stress and create a healthy work-life balance. Learn more about how we can help here: career coaching. Read more on the range of issues we can help with.
How Much Does a CBT Therapist Cost at Klearminds?
Individual: £120 - £160; Couples: £130 - £180;
Company: £120 - £160 + VAT
Fees are charged on a per session basis.
A standard session lasts 50 minutes.
Not Sure Which Therapist or Type of Therapy You Need?
Get in touch with Maggie Morrow, Award Winning Therapist & KlearMinds Director. Maggie can help match you with the right therapist based on your needs.
Private Therapy Rooms in London Online Counselling Available
Quality Standards
Our hand-selected therapists have trained in the UK's most respected counselling institutions. They hold a minimum of 8 and up to 30 years clinical experience within the NHS, private and/or charitable sectors in and around London. They are registered with: